Customer Spotlight: Star Trek Tricorder
A.J. is a lifelong sci-fi fan who, like most of us, wanted to hold the gadgets used in Star Trek in his own hands. So he did what any person with an engineering background would do… designed some parts and made one himself!
We asked A.J. a few questions about his Tricorder project and where the inspiration for his idea came from. Check out the Q&A with A.J. below.
Check out our Q&A and Video below…
---
Q: Tell Us a Little About Yourself:

A: I have an engineering background and moved into the entertainment field in 2009 working on almost every superhero action sci-fi film including Tron: Legacy, Pacific Rim, Avengers, Spiderman, Ironman, Capt America, Batman V Superman as well as working with the Black Eyed Peas' for their costume lighting for tours, commercials, award shows and even Superbowl XLV!
Q: Tell Us About your Project:

A: When I first began this project I wanted to include aspects of the original Tricorder created by Wah Chang, but update the style just a bit and reduce the size to equal something a bit more contemporary, keeping it not too far in the future so viewers could enjoy the idea of having one themselves, if possible. I included a mini media player which runs animations I have made myself, thanks to an animation class. Once the ball was rolling, I just couldn't stop, but after about a month of my spare time it was completed. I've been exceeding pleased with the final product and continue to receive compliments from around the globe from people that have seen it and appreciate it's sexy classic look as well as it's feasible functionality.
Q: How did you come up with your idea?:

A: I'm a lifelong sci fi fan and decided to create my own Tricorder design which would incorporate elements of the original series model design by one of my heroes Wah Min Chang which used beautifully machined metal parts! I had seen the first Trek Abrams film and loved so much about it, but felt a little let down when I saw the Phaser and Tricorder, so I set out to design and build my own.
Q: How long did your project take?:

A: About 1 year.
---
If you've seen a sci-fi movie in the past 10 years, A.J. has probably had his hands in the development of the props. And in case you're not a sci-fi fan, he's also done costume lighting design for the Black Eyed Peas, commercials for Logitech, Verizon, Snapple and much more. You can see A.J.'s work on his website or YouTube channel. Keep up the awesome job!
See the video of the Tricorder in action, pictures of the Tricorder parts, and more below…
To have your project featured, click the button below and tell us your story!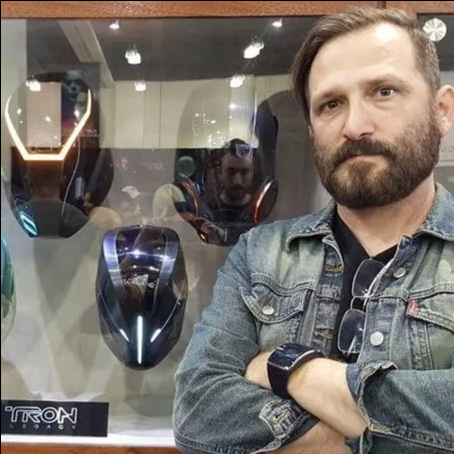 A.J. With Tron Legacy Props
Building of the Tricorder
Wire Frame Design
Tricorder Metal Parts
Tricorder Finished
Tricorder Finished
Pip-Boy from Fallout
Oxygen Mask – Star Trek Beyond
Shoulder Device – Supergirl TV Series
will.i.am Costume Arm Piece
A.J. with will.i.am
will.i.am Complete Costume