Manufacturing time depends on a wide variety of factors including quantity, complexity, material, number of processes, etc.
Time ranges from two days for short runs of simple 2D parts to a few weeks for longer runs and more complex 3D parts.
For conventional quotations, time will be included in your quotation.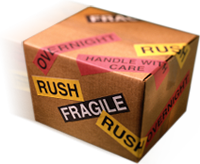 For automatic pricing via the free eMachineShop CAD software download, you will see multiple time options to choose from along with the price, in seconds. The fastest time quoted by the software is the fastest we can normally manufacture parts. However you can often reduce time by experimenting with different materials, shapes, finishes, etc.
Rush jobs
If you have an urgent need for faster delivery, please specify your requirement on the quotation form or, if using the eMachineShop CAD, add a comment such as "Need by ____ – FOR QUOTATION ONLY" and we will inform you if we can meet your time frame. Please note that rush service may entail a price premium.