Waterjet Cutting Service
Waterjets quickly cut metal and plastic parts from sheet materials using a high-pressure stream of water and abrasive. This is accomplished with the help of a high pressure pump.
eMachineShop offers a cost-effective waterjet cutting solution whether you need a single part, batch of prototypes, or a production order. eMachineShop cuts materials of different shape, size, and thickness, while saving time and providing excellent finish.
50+ Materials.
FREE Shipping in the USA.
100% Quality Guaranteed.
As Seen In:

Advantages
Tight tolerances achievable while cutting materials
Secondary finishing not required
Does not cause heat distortion
Fast turns are possible
Design Considerations
Round inside corners with a 0.030″ or larger radius
Avoid tightly toleranced features in thick materials
Avoid designing flimsy shapes
What is waterjet cutting?
Waterjet cutting is a technology that uses pressurized water flow to cut either hard or soft materials. Waterjet cutting is often used for industrial applications, such as the production of parts for machinery or vehicles. CNC waterjet machines are computer controlled to create precise and intricate cuts with ultra high pressure water. Waterjet parts can be produced quickly and with a high degree of accuracy.
Waterjet cutting also produces very little waste material and it is eco-friendly. This makes waterjet cutting an extremely efficient and cost-effective way to produce waterjet cut parts and components. This is one of the reasons why many industries use waterjet technology.
eMachineShop Made Sheet Parts
---
---
---
---
---
---
---
---
---
Order custom cnc parts in just a few steps! See how here:
Preparing CAD Models for CNC Machining
CNC machining offers many advantages compared to other processes including precision and quick turns. CNC machining is among the most demanded services due to its accuracy and efficiency. CAD (Computer Aided Design) enables realistic computer models of parts to be built and assembled using CNC machining, beginning with sketching a design model on CADsoftware. The completed design is then converted into other file formats where it is then imported into CAM/CNC software and converted into G-code, the programming language that directs the CNC machines.
Waterjet Materials and Types of Waterjets
CNC machine shops offer waterjet cutting services, which are eco-friendly and offer many benefits including high precision, small cutting kerf width and minimal human errors since CNC machines are computer controlled. Waterjets are also capable of cutting complex 3D shapes, which are used in various industries.
The two main types of waterjets used in machine shops are pure and abrasive. Pure waterjet cutters cut materials using a highly pressurized jet of water, with the help of a high pressure pump and a metal nozzle. Pure waterjet cutters are used on materials that are not metallic such as rubber, plastic materials and foam. The process provides a clean cut. Waterjets that use an abrasive combine an abrasive with a stream of pressurized water to cut into materials. Garnet is a commonly used abrasive, which results in high accuracy, fast processing, and precision. These cutters can be applied to virtually any material including hard materials like ceramics, stone, glass, plastic, and metals. Waterjet cutting is commonly used for applications including waterjet metal cutting, waterjet cutting steel, waterjet cutting stainless steel, and waterjet cutting aluminum.
Abrasive waterjet cutting is also successful at cutting hard materials and since it uses a cold cutting process, it works well with many types of materials.
Custom Waterjet Cutting Benefits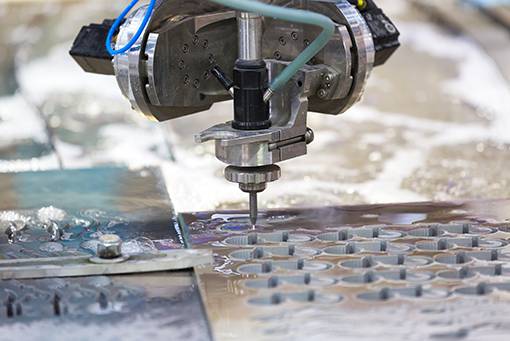 The waterjet cutting process is known for having many benefits, including high accuracy and quality. This technology is applied in many industries, such as automotive, aerospace, metal fabrication etc. Waterjet cutters are cold cutting machines, which means no heat-affected zones are created during the process.
It is a cost-effective process since several layers of materials or metals can be stacked and cut at once. No post-processing is required, resulting in minimal waste. Finally, waterjet cutting is sustainable since it does not emit any toxic fumes or create greenhouse gasses. Waterjet cutting services are the ideal solution for unusual and thick materials requiring quality edges and there is no better option than a waterjet cutting machine. CAD files can easily be uploaded online for an instant quote.
Steps to waterjet cutting?
Kerf width
Material that is being removed as part of a water cutting process relates to the kerf width or width of the stream, which is typically 0.03 inch. How wide the kerf will be depends on a wide range of factors, such as the nature of the waterjet nozzle, abrasive, type of material, and material thickness.
Initial waterjet piercing
The first cutting stream that the cutting machine makes is called a piece. It is wider than a typical kerf. Peirce represents the first step in the water cutting process and can be accomplished in several ways: low-pressure, circular, linear, and stationary. The pierce method mostly depends on the material and thickness.
Tapering
Tapering is the change in kerf width at the top and at the bottom of the cut. Waterjet cutting machines make a V-shape taper because the cutting stream loses some of its power as it cuts deeper into a material.
Pressurizing the water
The method of pressurizing the water is the process which involves rotary direct drive pumps and linear intensifiers. These pumps have sensors, a control system, water filters, and a motor.
High-pressure tubing
Pressurized water flow goes from a high pressure pump through high-pressure tubing and to the cutting head. High-pressure tubing must have excellent tensile strength and yield plus a smooth interior finish.
Waterjet cutting heads
Pressurized water travels through an opening of the cutting head, which is a sapphire, ruby, or diamond with a small hole.
Pure waterjet cutter
A pure waterjet cutter is the original form of a waterjet cutting tool. It produces excellent detailed geometries and limited material loss.
Abrasive waterjet cutter
An abrasive waterjet cutter has an abrasive material attached to the cutting head, where it is mixed with a water stream that goes through a nozzle. The use of abrasive generates more effective cutting. The addition of abrasive enables the abrasive jet cutter to cut through various materials, regardless of their size, thickness, or hardness.
This cutter has 1000 times more power than a pure waterjet cutter, and it's capable of cutting ten inch thick materials, such as metal, without creating mechanical stress or heat.
The use of waterjet technology in various industries
Aerospace industry
Medicine
Cutting of glass
Waterjet cutting in industrial cleaning
Food industry
Electronic industry
Cutting of fiberglass
Military service
What our customers say
Thomas Howlett
May 12, 2022.
I haven't had anything made by them, but I've used their software to design some prototypes and get quotes. Maybe soon.
Brian Spellman
May 12, 2022.
Got the part made as exactly I wanted it for my RV converted bus project.
Richard Raney
April 29, 2022.
very efficient quoting and reasonable price, but slow delivery. Products are excellent.
Fair, fast quote. Materials were manufactured quickly and shipped about a week ahead of schedule. Thank you!
Maite Azcorra
November 5, 2021.
Perfect execution, perfect service, perfect timeliness. What else can you ask from a custom machining service. Thanks!
Bill Clancy
October 28, 2021.
Perfect. Aluminum was cut exactly as specified in my diagram and fit perfectly.
Mike Wolff (The Wulfff)
October 18, 2021.
Needed gripper fingers for robot arm; Good final product, great price, accurate to print, fits on the robot, alignment not 100% but within tolerance. Week or so delay from initial due date, as was expected due to complexity of the shape. Overall would have liked notification of delay, need to keep checking back otherwise you aren't notified until it ships, but would use the service again.
Frequently Asked Questions
Q: How does waterjet cutting work?
A: Waterjet cutting is a process that uses high-pressure water to cut materials. It is often used for industrial applications, as it can easily cut through metal, glass, stone, and other materials. CNC waterjet machines are fast and efficient and can produce clean accurate cuts.
Q: What is waterjet?
A: A waterjet machine is a powerful tool that uses pressurized water to cut through metal, plastic, glass, stone and many other materials. Waterjet machines are often used in industrial or manufacturing settings to create parts with precise dimensions.
Q: Can waterjet cut steel?
A: Yes, waterjet cutters can cut steel. The waterjet steel cutting machine can be used to cut through thick or thin sheets of steel. Waterjets can cut stainless steel as well in a safe process that doesn't produce harmful emissions or waste products.