CNC Milling Service
CNC mills or CNC milling machines produce parts of nearly any shape from soft metals like aluminum, harder metals like steel, and plastics such as acetal.
eMachineShop offers cost-effective milling solutions whether you need a single part, batch of prototypes, or full production order.
50+ Materials.
FREE Shipping in the USA.
100% Quality Guaranteed.
As Seen In:

Advantages
CNC milling has a number of advantages over other manufacturing processes.
Can produce parts of almost any shape or form
Cost-effective for prototyping and short runs
High dimensional tolerances are possible
Smooth finishes can be achieved
Can produce identical parts repeatedly
Milling machines can operate at high speeds, producing parts quickly.
A single machine can produce a wide variety of part shapes and sizes
Milling can be applied to many materials, including metals, plastics, and composites.
CNC machines can be programmed using computer-aided design (CAD) software, which makes it easy to create and change designs.
Design Considerations
When designing parts to be CNC milled, there are several tips to keep in mind:
CNC milling machines are capable of precision so try to use this to your advantage
Avoid deep pockets which are difficult to machine
Sharp inside corners are often difficult so consider using a radius
Apply chamfers to top edges to reduce sharpness and improve appearance.
Apply filters to the bottom of pockets to reduce the possibility of stress fractures if the component will be under stress.
Thin walls and other flimsy shapes can be difficult to machine as they may not hold up against the pressure of the cutting action.
Try to create shapes that do not have complex curves in more than one axis – as it may be difficult to hold during machining.
Prefer materials that are easy to machine such as aluminum and mild steel.
Consider that milling creates a visible cut pattern on the flat surface of the material
What is CNC Milling?
CNC Milling is an automated process used to manufacture 2D and 3D parts by removing material from raw stock. Workshops use CNC milling machines to save time and improve manufacturing productivity.
To make a CNC milled part, a block or sheet is placed on a table below a spindle which holds a cutting tool. A computer selects the tool used, the rotation speed, the vertical motion of the spindle and the horizontal motion of the table. This allows loaded cutters such as drills, taps and end mills to remove portions of the material to create shapes.
eMachineShop Milled Parts
---
---
---
---
---
---
---
---
What is a CNC Milling Machine?
A milling machine is designed to produce premium parts with a high level of detail and finish. It uses rotary tools, or a milling cutter, to cut away at the material by following the instructions from a CAD file to create a part design. CNC milling machines remove material to form simple or complex shapes.
A milling machine computer controls the cutter's function, manufacturing process, milling operation, and coordinates, while minimum human input is required. These machines are involved in the mass production of many components from different materials and plastic. They are designed to save time and reduce manual labor.
Difference between CNC milling and CNC turning
CNC milling and turning both are capable of producing accurate parts from metals, plastics and other materials. The main difference is that while the cutting tools rotate for milling, the raw material rotates for turning. For that reason, turning is mostly used for machining round parts such as shafts, pins, balls, etc. Another difference is that while basic milling machines have three axes of motion, a lathe or turning machine needs only two. In a mill, the cutter usually moves up and down while the workpiece moves horizontally in two directions. In comparison, turning requires only that a non-rotating cutter move left and right on one hand and forward and back for the second axis. The fact that turning has only two axes in its simplest form, constrains the variety of shapes it can produce. For example, turning can produce a shaft, chess pawn, a cylinder with a rounded end, etc. Turning normally can't produce even a simple enclosure box. However advanced turning centers can have more than two axes and therefore can produce a wider variety of shapes.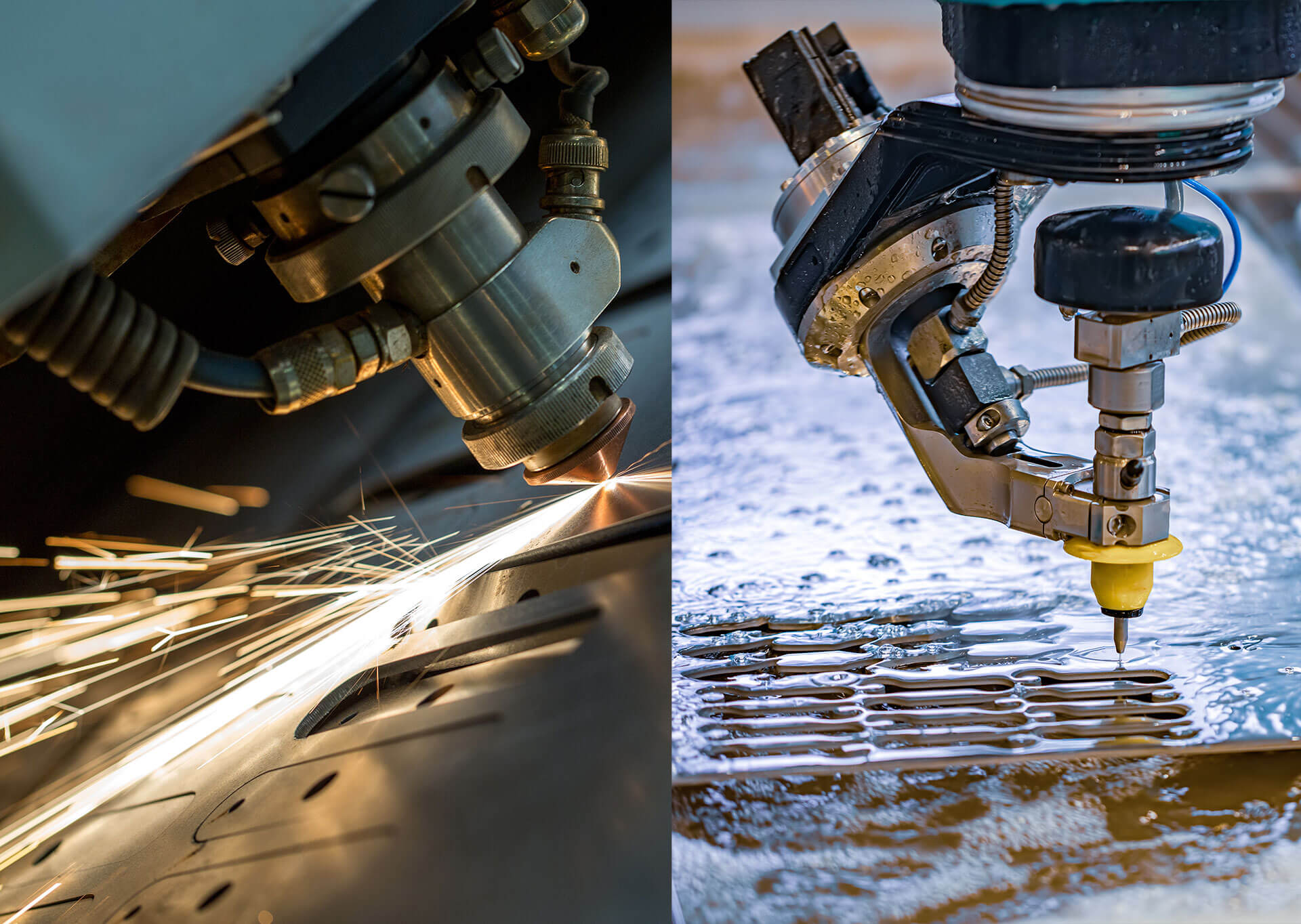 Why Is CNC Machining Service Important?
CNC services and milling machine options enable efficient and effective manufacturing technologies that efficiently produced machined parts. For instance, this process can produce car parts or aerospace components efficiently via the CNC milling process.
CNC milling also minimizes the costs of prototyping, saves time, reduces manual labor, and improves the manufacturing process.
This technology isn't for industrial purposes only. It's widely used by hobbyists for woodworking, aluminum machining, prototyping and drilling.
The primary function of a milling machine is for cutting workpieces into a desired shape. Based on the number of axes the numerical control cnc machine has, the more complicated the final piece can be. It's used for aluminum milling, copper milling, steel milling, and numerous other materials.
Cutting Tools Used in CNC Mills
Plain End Mill
Creates walls with straight 90 degree edges and sharp corners at the bottom of recesses.
Chamfer End Mill
Creates 45 degree bevels on the top edge of a wall or recess.
Ball End Mill
Creates rounded edges at the bottom edge of a recess.
Rounding End Mill
Creates rounded edges at the top edge of a wall or recess.
Dovetail Cutter
Typically used to cut the pins and tails of dovetail joints.
Order custom cnc parts in just a few steps! See how here:
Preparing CAD Models for CNC Machining
CNC machining offers many advantages compared to other processes including precision and quick turns. CNC machining is among the most demanded services due to its accuracy and efficiency. CAD (Computer Aided Design) enables realistic computer models of parts to be built and assembled using CNC machining, beginning with sketching a design model on CADsoftware. The completed design is then converted into other file formats where it is then imported into CAM/CNC software and converted into G-code, the programming language that directs the CNC machines.
Considerations for Custom CNC Milling
With CNC machining, manufacturers can quickly produce CNC prototypes and durable parts for various applications. When selecting CNC machining materials consider that only stainless steel is corrosion resistant. For a lightweight product, low-density metals should be considered such as aluminum, beryllium, titanium, and magnesium alloys.
Elements and alloys able to withstand high temperatures include titanium, stainless steel, nickel, and tantalum. Finally, material costs should be considered for custom CNC milling projects since material costs impact total cost.
Common CNC Milling Metals
For custom milling projects, any metal or plastic, which is hard enough for machining, can be machined. The most common material used for CNC machining by CNC machine shops are aluminum alloys, which are naturally resistant to corrosion.
The 6000 series is most commonly seen in milling machine shops. Stainless steel alloys are also common since they are resistant to corrosion and wear, as well as carbon steel, titanium, and nylon, a chemically resistant, strong, durable, thermoplastic material.
Different types of milling machines
Vertical milling machine
A vertical milling machine uses cylindrical cutters oriented vertically on a spindle axis. This tool is particularly useful for drilling and plunge cuts, thanks to their vertically oriented tools. Their design allows for all end milling operations.
The vertical milling cutter comes with the following benefits:
It's cheaper
Easier to use
It is smaller
Simple set up
Has straightforward operations and machining processes
Used to produce high-quality parts for different types of industries and machining processes
Multi-Axis CNC milling machine
The Multi-Axis CNC milling machine can cut at more angles and move along more axes.
2-axis milling machine
This CNC machining process is much less common as it is limited to just two axis.
4-axis and 5-axis milling machine
These more advanced forms of CNC milling allow for more efficient machining of complex shapes such as impellers for ships and aircraft propellers. The cutting tools can be positioned at more angles during the cutting process.
Horizontal milling machine
A horizontal milling process is performed through a horizontal milling cutter. This machine has horizontally oriented tooling that can move along up to five axes and produce holes, details, slots, and shapes of three-dimensional parts.
The horizontal milling cutter has these benefits:
Can generate complex workpiece geometries
Can accommodate larger parts in most cases
Better for certain types of cuts
Higher horsepower
Fast processing speed
Better surface finish in some cases
3-axis milling machine
The 3-axis tool can move in the x y z axis, so it is possible to cut a workpiece in any direction, on a vertical or horizontal axis, while performing various milling operations. However, this machine does come with some limitations. The uniform angle of the 3-axis milling machine reduces its ability to cut some complex production parts.
CNC milling machine – parts
Below you can find the list of the general components most CNC machine tools have.
Frame: The frame provides stability and rigidity. It features other components like a base, headstock, and detachable columns.
Spindle: The spindle is the rotating unit of the CNC machine that holds the cutting tool and other parts in place. It can be horizontal or vertical.
Coolant tank: CNC machining processes generate heat, and a coolant tank helps cool process for quality surface finishes and long tool life.
Control panel: A CNC control panel is used for entering data and codes. It controls milling operations.
Tool holders: This component holds the cutting tools to the CNC machine.
Table: This is the solid base where you place the clamps and workpieces using a vice or fixtures.
Axes: The general axes are x y z to support the full milling process.
Industries that benefit the most from CNC machined parts
The CNC machining process is applicable to many industries as it is highly efficient, accurate and eliminates the need for manual labor.
Electronics industry
The electronics industry heavily relies on CNC machines and CNC machined parts to create electronic enclosures, circuit supports and other related components.
Medical industry
The medical industry is another field where CNC machine tools help create various production parts such as implants and medical devices. CNC machinery is often used to create surgical equipment and components, including ventilator parts, insulin pumps, medical rods and implants, bone plates, and medical screws.
Aerospace industry
The aerospace industry has a constant need for CNC machined parts. This type of machine can make complex, customized components which are part of aerospace equipment. Some commonly created parts include electronics, landing gear, hydraulic manifolds, housings, fuel bodies, and bearing houses.
Commercial industry
CNC cutting heads are capable of making affordable commercial parts that help companies cut back on production costs. They will use milling in their manufacturing processes to produce a wide variety of mechanical parts.
Oil and gas industry
These machines are used in the petrochemical industry to produce drill bits, cylinders, pins, rods, valves, and many other components.
History of CNC milling machines
The history of the first CNC milling machine dates back to the 1940s and 1950s. The first numerical control machines were developed during World War II to increase the efficiency of manufacturing weapons and other military equipment. One of the first companies to develop a CNC milling machine was the Massachusetts Institute of Technology in the early 1950s. Their machine was the first to use a digital computer to control the movement of the milling head. In the 1960s, the first commercial CNC milling machines were developed by Cincinnati Milacron and Kearney & Trecker. These machines were much more sophisticated and capable. They were also easier to operate and program. Throughout the 1970s and 1980s, CNC milling technology continued to advance. Today, CNC milling machines are used in a variety of industries, and are considered one of the most versatile and precise manufacturing tools available.
What our customers say
Thomas Howlett
May 12, 2022.
I haven't had anything made by them, but I've used their software to design some prototypes and get quotes. Maybe soon.
Brian Spellman
May 12, 2022.
Got the part made as exactly I wanted it for my RV converted bus project.
Richard Raney
April 29, 2022.
very efficient quoting and reasonable price, but slow delivery. Products are excellent.
Fair, fast quote. Materials were manufactured quickly and shipped about a week ahead of schedule. Thank you!
Maite Azcorra
November 5, 2021.
Perfect execution, perfect service, perfect timeliness. What else can you ask from a custom machining service. Thanks!
Bill Clancy
October 28, 2021.
Perfect. Aluminum was cut exactly as specified in my diagram and fit perfectly.
Mike Wolff (The Wulfff)
October 18, 2021.
Needed gripper fingers for robot arm; Good final product, great price, accurate to print, fits on the robot, alignment not 100% but within tolerance. Week or so delay from initial due date, as was expected due to complexity of the shape. Overall would have liked notification of delay, need to keep checking back otherwise you aren't notified until it ships, but would use the service again.
Frequently Asked Questions
Q: What is a cnc mill?
A: A CNC mill machine uses computer numerical control to create various types of components. CNC mill machines are commonly used in the manufacturing industry to create parts for cars, computers etc. Desktop CNC mills are smaller versions of these machines that can be used for small-scale applications.
Q: What is 3 axis cnc machine?
A: A three-axis CNC machine is a computer-controlled machine tool that has three axes of motion: the X-axis, the Y-axis, and the Z-axis. A three-axis CNC machine can perform many different machining operations, such as drilling, milling, turning, and engraving.
Q: What can you make with a milling machine?
A: Milling machines are most commonly used in machine shops, where they are used to create parts for a variety of industries. They can be used to create both small and large parts and can be fitted with a variety of attachments to perform different tasks.